What can Chris do as Producer?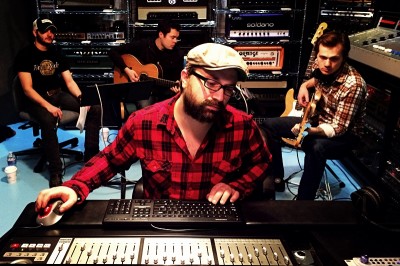 As a producer Chris can help bring your next project to life. He communicates well with people and enjoys helping the artist craft a unique statement through music. Chris works well as a producer in the traditional sense – i.e. as the facilitator between skilled personnel on the creative side, the business side, and the artist. However, Chris truly thrives as a more involved producer – a description in keeping with modern industry trends. Chris can both save the artist a little bit of their budget and ensure a singularity of vision from start to finish because he is capable of recording, programming/sequencing, and mixing a project, in addition to overseeing the usual tasks of project/budget management and creative vision.
Chris' Process
When Chris takes on a project, the recording process usually goes something like this:
evaluate material with artist and either tweak and polish existing songs, or write new songs (includes arranging of co-writes with other writers if necessary)
prepro – demoing of the songs to be cut
rehearsal – Chris usually records rehearsals for band projects and uses tracks as prepro to supplement initial sequencing
rhythm tracking – tracking all main instruments. This can be done by tracking everyone simultaneously or individually (building instrument by instrument) — whatever the artist finds more comfortable.
overdubs – any additional recording. This can take place over the course of several smaller sessions.
vocals – tracking any and all vocals (includes editing and tuning if needed or requested)
mix – generally a tune a day
tweaks – the artist comes in (or Skypes in) and the mix is tweaked based on the client's suggestions
mastering – the final mixes go to mastering
delivery of assets – all raw tracks, mix sessions, 24 bit mixes (instrumental, TV, and performance) are handed off to the artist at the project's conclusion
What Do People Say?
See what people have said about Chris as a producer.
Chris Production Examples
How do I know if Chris is any good at producing? Hear for yourself.